Morning Prayer
Lord God, we thank you that you have given us atonement, an atonement that delivers us from all evil, from all that is temporal and perishable, and that allows us even now to live in eternity. Grant that many people become aware of the greatness and freeing power of the redemption you have offered us. May a people be born to you, serving you with light in their hearts as they look to the future coming of Jesus Christ. Be with us, strengthen us, and protect us from all the deception on earth. For we want to be your children and nothing else; with our whole hearts we want to look always to you. 🙏

LORD GOD bless us and protect us. LORD GOD ALMIGHTY put an end to the CORONAVIRUS. This is my prayer in the name of JESUS. 🙏🙏🙏
"We have realized that we are on
the same boat…All of us fragile
and disoriented, but at the
same time…important and
needed…. all of us called
to row together…each of us
in need ofcomforting The other."

Pope Francis
I am not complaining, LORD, you know that I will just try it… I will prioritize those who are hungry and sick…. take care of us, do not forsake us ten of my bandmates and colleagues and my volunteers Arpie & the Multivitamins, Feed Hungry Minds Library Inc. Project Bag Of Hope Food for MEDS-HERO, you are our great Provider!!!! Thy will be done! If it's your will, it's your bill! 

#

palawanexpress
Simpleng hiling ng isang pwd! 

♥️
There is no competition for Feed Hungry Minds Library Inc. Frontliners and volunteers, but there is a favor of food and snacks for the medical doctors and checkpoints frontliners, FHM Baguio Headed by Merna Brazil hahhahha 👍🏾👍🏾👍🏾 She was 10 years ago Mother, we assigned to the kids with boil, wound in the head because she is the bravest of our FHM heads ahahhahah and we also send her to Leyte with the coffin in C130 during Yolanda 😂😂😂
(Today the frontliners here are classy, Macarons for snack and Quiche)
What can FHM Manila and FHM Bicol, Visayas and Mindanao say?
Thank You LORD di ako na stress sa kanin ngayon, galjng ni Chef Francis! Chef Arpie! PERFECT! Binagoongang Baboy with pritong talong for 150 doctors and frontliners tonight's dinner menu!
Salamat LORD dami naming answered prayers, 33 sacks of rice, dumating today Maraming salamat manay Jane Smith and Chrissian Faller and bro stef 

♥️

♥️

♥️

dami nating mapapsaya! So panu namin rerepak na to? 

😂

😂

😂
Bukas maaga ako mag aabang pag open ng bodega sa Binondo para sa sardinas, buti na lang at cost binigay sa akin ng may ari alam nyang para sa mission, 20 boxes kargador naman drama ko! 

😢

😢

😢
Labyu LORD, di na ako mag susungit

😛
Look how they manage to practice social distancing in LOndon, sa Tesco supermarket lang yan, kakainggit naman. Sa atin nag pila parang pupunta lang sa faith healer mga nakapayong pa 😂😂😂(ate hiniram ko picture mo, gusto ko na bumalik sa UK asap hahahah)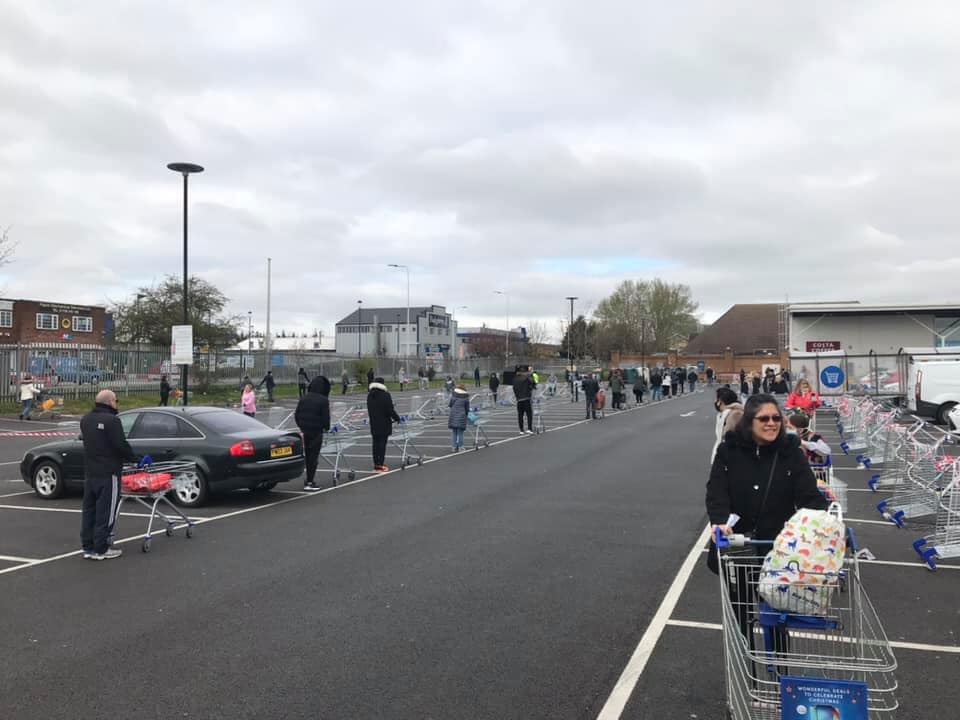 Sa lahat ng kaibigan ko sa buong mundo salamat sa tiwala nyo kahit pagod na ako di ko kayo bibiguin. Makakarating po ang tulong nyo sa mga kapuspalad nating mga kababayan. Pagpalain kayo ng Panginoon!!! ♥️♥️♥️

Sa mga nanira naman sakin, at nag lalagay ng angry face sa posts ko, wag kayo mag alala, di ako galit sa inyo, PM lang kayo, wag kayong mahiya, ngayon nyo mapapatunayang maling-mali ang mga paghuhusga at paratang nyo at mga pinaniwalaan nyo! Priority kayo! God Bless you! Peace 😛😛😛

Evening Prayer
Father, in the name of Jesus, I thank you for delivering me from the fear of death. You are with me; I will not be afraid. You are my God, and I will not be dismayed. I have not received the spirit of bondage again to fear, but I have received the Spirit of adoption, whereby we cry, Abba, Father. I sought the Lord, and he heard me, and delivered me from all my fears. 🙏

LORD GOD bless us and protect us. LORD GOD ALMIGHTY put an end to the CORONAVIRUS and heal those who are sick with this virus. 🙏🙏🙏
Ay teka naman, bago ako mag sign off, shout out sa mga taga Psbank (makati ave branch po) salamat sa magandang serbisyo kahit may covid19, i gave them a box of face masks, tuwang tuwa pati guard.. at mga tellers, saludo ako sa inyong lahat👍🏾👍🏾👍🏾 lipat na ko sa branch nyo!!!♥️♥️♥️