Morning Prayer
Let us, then, hold firmly to the faith we profess. For we have a great High Priest who has gone into the very presence of God – Jesus, the Son of God. Our High Priest is not one who cannot feel sympathy for our weaknesses. On the contrary, we have a High Priest who was tempted in every way that we are, but did not sin. Hebrews 4:14-15, TEV

?

Dear Father in heaven, w

e look to Jesus Christ, who is at your right hand, through whom you have promised help for the whole world. Unite us with him so that we may receive authority to help all people according to your will. May your name be kept holy among us, for your children have every reason to rejoice in the Savior you have given them. We thank you for everything you have shown to those who believe in you. We pray to you, hasten the time when your day shall come with glory, the day when you will give the glory to Jesus Christ, when he will reign and triumph over all evil and bring the peace you have always wanted to give the world. We wait and long for this.
The goodness and the faithfulness of the LORD should not end in me… i want the children to feel the LOVE of JESUS through us…our mission to serve! Feed Hungry Minds Library Inc. 

♥️

♥️

♥️
Day 71 Feeding and Relief Mission
Today we at Feed Hungry Minds Library Inc. Are joining forces with Food for MEDS- KABABAYANIHAN Amazing chef Amy Henson's signature dish singaporean fried noodles! ? Feeding 843 indigents today with Singaporean Chicken Noodles and biscuits. First stop are the settlers near Our Lady of Peace hospital in Paranaque, then street dwellers and stranded families living under the bridge of Magallanes fly over, then went to the homeless familes of Pureza Sta Mesa, Fire victims in Legarda Manila, Homeless people in Lawton, Malate, Mabini and Roxas blvd.
They super appreciated the old clothes, toiletries that the Cathay Pacific Filipino Crew Community, and the slippers from @otto shoes! Thank you, Miles, Marose, Malen, Bambie, for doing this joint mission with FHM.
Today we successfully fed 843 indigents under the rain!
Team 1
Maribel Hernandez
Malen Isla
Miles
Team 3
Marose Poe
Amy Henson
Team 4
Bambi Torres Camus
Alex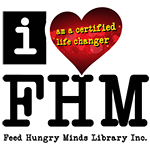 Evening Prayer
Father, Your Word declares that children are an inheritance from you, and promises peace when they are taught in your ways. I dedicate our children to you today, that each one might be raised, as you would desire. In the name of Jesus, I bind their feet to paths you have chosen. I believe that as your word goes forth, it will enter the heart of our children, and your Word will accomplish what it says it will in the name of Jesus. ?

LORD GOD bless us and protect us from the CORONAVIRUS and put an end to this problem. LORD GOD ALMIGHTY heal those who are sick with this virus.
???