333K MISSION/CHALLENGE
Bantique/Bhutan Island Pitogo Bohol
March 10-11 ,2022
Feed hungry minds 11th year anniversary mission and birthday mission
Maraming salamat po sa inyong lahat.
Prayer
For the word of God is alive and active. Sharper than any double-edged sword, it penetrates even to dividing soul and spirit, joints and marrow; it judges the thoughts and attitudes of the heart…..
Hebrews 4:12 ?

Lord our God, be merciful to us. Be our strong refuge. Help us on all our ways. Help us on the dark and difficult paths we must often travel on earth. Grant that we may see your light, for you are with us. You help us, and you let the power of the life of Jesus Christ be with us so that your name is honored on earth through many who love you and come to you, pleading with you in prayer. Give us the light of your Word, that we may hear and live rightly. Give us increasing strength for the fight to which you have called us. Bless us all. Shine into our hearts so that we can carry out all you have promised through your Word. Amen.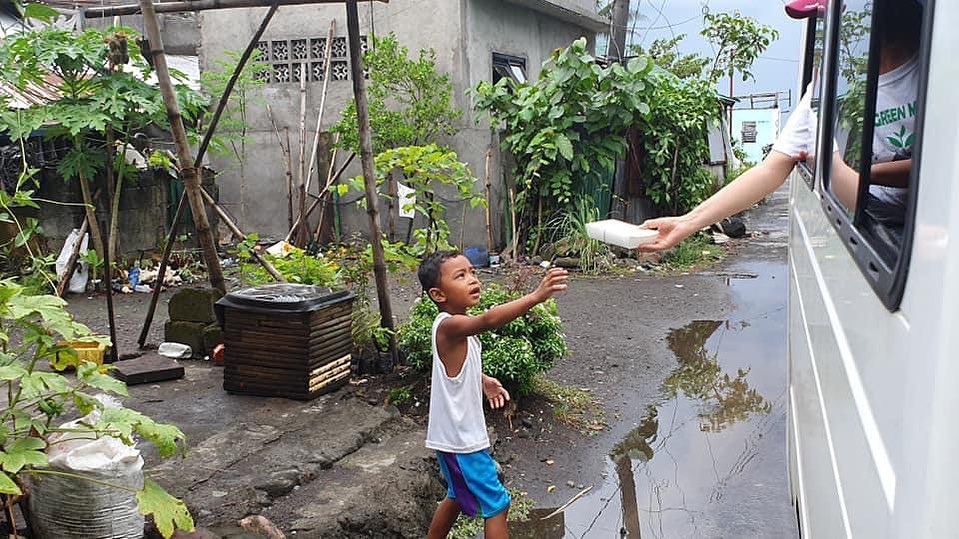 Ay wow! Thank you Guinobatan Albay for featuring FHM Feed Hungry Minds Library Inc. And our green warriors and our FHM garden In your beautiful video! Ang ganda!?
Abangan bukas sa aking, 56th birthday and 11th year anniversary of FHM Feed Hungry Minds Library Inc.
Kung ilang pamilya mabibigyan natin ng bubong para ma umpisahan na nila ang kanilang mga nasirang bahay sa 2 islang ating pupuntahan sa march9-12, para sa aking birthday mission!
Muli po ang aking taos pusong pasasalamat sa lahat ng tumulong at nag bigay ng love gifts! Pagpalain kayo ng Panginoon! ???
Giving back the glory to GOD! ??????
I must have done something good in the past to deserve such love!!!
Dropped by my house and my bff house Duncan E Bradbury and Jay Parker to say HI, look what they prepared for me beautifully handmade framed art work of a japanese woman made of beads wow!!! (Now i know how u spent 365 days working on it hahahha) labet!?
What surprised me when i went to the house in TLR, was a huge white bag from the ever thoughtful family in the universe the Raffy Tulfo family! Who never missed a single occasion in my life!!!! A beautiful CHRISTIAN DIOR bag, from my kuya Senator Raffy, cong Jocelyn Pua, cong Ralph Tulfo, atty Garreth Tungol, my sweet anak Mar Tulfo-Tungol and My poging apo grayson! Im more that blessed to have you in my Life as my family! Love you to the moon and back! #imsoblessed #dior #mybirthdaysurprise #glorytoGOD
Today is my Birthday, mom said i was born 3 in the afternoon of March 3, 1966. Since then 333 became my personal favorite numbers, my first house number was 33, my car's plate number was 333, my most effective time to pray is 3:33.
3 weeks before my birthday i posted something in my wall, about my mission.
I only have 3 birthday wishes…
To be able to build 33 roofs for the homeless victims of odette in Boho??
VP Leni Gerona Robredo will win as President of the Philippines??
Love, protection, and good health to all my loved ones, my daughter, my Family, my staff, my band, my FHM family, my warriors and all my friends!??
Today is 3-3-22 and FHM Feed Hungry Minds Library Inc. 11th year anniversary!
I prayed to bless at least 33 families with food Packs or maybe a roof to 33 families who losts their homes
From typhoon Odette in 2 islands in Pres Carlos P Garcia Bohol i visited 3 months ago to date they have not recovered yet.
Since i have no regular shows yet, i prayed for a mission and raise Funds for roofing materials and nails and coco lumber and today im going to reveal GOD's answers to My prayers.
I have received a total pledges and donations from friends total of……Php333,120.10!!!
Coincidence or not, im overwhelmed, im very blessed and im speechless! I glorify the LORD For the Answered prayers.
I promise to update you on the development of our mission, on how we will spend the gifts u sent me, and lets see how Many homeless families will have a roof over their heads in the coming days!
From the bottom of my heart, i love you all!!!
Thank you JESUS for the 56 yrs of unconditional Love! ?
#missionbeyondmusic #answeredprayers
#Arpieandthemultivitamins #GloryToGod
One beautiful birthday gift I received today is lots of plywood and assorted nakls for the homeless and underprivileged families left by typhoon Odette roofless! Thank you very much Guinobatan Fil-chi, manay Leticia Pardiñas for the love and trust and support and making a huge difference in the lives of many brothers and sisters!
Dios Mabalos po!!!! With Zita N. Yap??? #TyphoonOdette #feedhungryminds
We will be traveling to Bikol with my band, ayun kaya pala di ko mabuksan ang van me pa cake sa loob hahahhaha na surprise naman ako! Thank u to my fave band in tthe universe labyu all! ??? #Arpieandthemultivitamins
Yung banda kong gagawin ang lahat patupad lang ang bday wish ko, kahit itakwil ng pamilya hahhaha
Natupad din birthday pangarap kong paru paru G hahahhaha i love you guys!???
Finding tallano gold??? Pag may tinanim may casava cake! Nag enjoy ang Arpie & the Multivitamins?
Diosdado Salumbre Eugene Nick Parpana Johndy Sarmiento Francis Sicnarf Rocky Ocampo
Yung bigla naming naisipang kumanta ng "minsan ang Minahal"
isa sa Pinakamasakit na awitin ni katy de la cruz at pinakamahirap kantahin na kanta.. partida walang mic, sa tabi ng pool at walang effects hahhaha iniiyakan namin ni Julius Baylon Cawaling ang awit na to kase kala
Namin laos na kami ???
Start of 2nd BOHOL Mission
Pls Pray for our mission the 333k mission challenge! Praying to roof 41 houses/families in Bantique and Bhutan island in Pitogo/ president Carlos P Garcia Bohol!!! Our journey begins now!?? #fhmboholmission #feedhungryminds #TyphoonOdette #birthdaymission #FHM11thanniversarymission #333kchallenge #41houseschallenge
Touchdown Tacloban #fhmboholmission2
Need to go to the bank before going to Bato Port Southern Leyte – 4 hours to cross to Ubay Bohol and another 2 hours via roro – hay sakit na ng pwet ko! #fhmboholmission2
We will stay overnight at bato port tonight at a lodge near the port taking chances to cross Ubay bohol tomorrow they said its fully booked and theres only one roro a day…?? I pray someone will cancel their booking so we cross the island i need to purchase all roofing materials for our Mission in the island! ?????? #fhmboholmission2 #333kchallenge #41houseschallenge #feedhungryminds #birthdaymission #TyphoonOdette #fhmeleventhyearanniversarymission
Praise GOD we made it to the roro to cross bato port to ubay port bohol for another 4hours… hay ktakot takot na koneksyon at paki usap thank u sa pamangkin ko Jayson Pacampara Patriarca na tinulungan kami ma accommodate!!! #fhmboholmission2 #333kchallenge #fhmeleventhyearanniversarymission #41houseschallenge #feedhungryminds #birthdaymission #TyphoonOdette #fhmboholmission #fhm11thanniversarymission
Hanggang saan aabot ang 333k challenge?
My birthday and 11th year anniversary of Feed Hungry Minds Library Inc., Mission and challenge, we prayed to roof 41 homeless families in 2 small islands Bantique & Bhutan Island Pitogo/ pres Carlos P Garcia Bohol 3 mos after typhoon Odette who remains homeless to date. #fhmboholmission2 #fhmboholmission #333kchallenge #fhmeleventhyearanniversarymission #41houseschallenge #feedhungryminds #birthdaymission #TyphoonOdette
DAY 3 (March 9, 2022) Ubay, Bohol
One more boat ride to reach the final destination of our mission, 333k mission for 41 homeless families left by typhoon Odette in Bantique and Bhutan Island Pitogo Bohol.
#fhmboholmission2 #333kchallenge #fhmeleventhyearanniversarymission #41houseschallenge #birthdaymission #TyphoonOdette #missionbeyondmusic
Started with zero funds… until GOD answered!
My 333k mission/challenge!
Kayanin ko kaya mag pa bubong ng 41 small houses for 41 homeless families here, in the island?
One more boat ride to reach the final destination of our mission, 333k mission for 41 homeless families left by typhoon Odette in Bantique and Bhutan Island Pitogo Bohol. #fhmboholmission2 #333kchallenge #fhmeleventhyearanniversarymission #41houseschallenge #birthdaymission #TyphoonOdette #missionbeyondmusic