How Basilan Mission Changed My Life
by Arpie Patriarca
If you were asked to go and visit a place which you always associated with war, would you go?
When i received the invitation from my fellow Bicolano friend dr Lynne Lourdes Lucena a neuro-surgeon from Albay/ Naga to be part of the Festival of love and peace for the "orphans of war" in Lamitan Basilan province. There was no signs of fear or hesitations in my heart, i immediately said yes. I did not asked where we are staying, how safe are we?, how secured the place is? There is something in my heart that i felt, i have to be there. I only have "FAITH" in the LORD and the LOVE that i must share to the children and the victims of the conflicts and war.
Oct 3, arrived Zamboanga city and stayed overnight. At 4am started to sail to Lamitan Basilan, and went straight to the military camp headed by a fellow Bicolano, a man I just met. Who completely changed my life Captain Winston Abalos who in my heart became an instant brother, friend and a hero. He accommodated us and welcomed us with so much hospitality, security and assurance that we will be under their care. Prepared a humble breakfast and short orientations we immediately boarded a military speed boat to the island of Akbar, together with my fellow Feed Hungry Minds Library Inc. Life changer/ volunteer Te-Chie Agatep a singer by profession.
Our agenda is only to visit the island where most most of the residents are Muslims and poorest of the poor victims of war in Mindanao, (abusayaf, milf, mnlf, maute group, all rebel and kidnapping m group you can think of). On our way to the island we noticed a vast of garbage floating in the ocean from Basilan port to the island. There was a heaviness in our hearts as we approached the island. Capt. Winston, introduced us to the Barangay Head, and gave us the backgrounder of the residents of Akbar. Immediately decided to divert 1/3 of the stuff we brought supposedly only for the "orphans of war". We asked them to gather all the children and promised them we will return at 1pm do an instant mission. Soon as we reached the port of Lamitan, boarded a military truck again and went straight to the market, bought stuff, apples, cupcakes, juice, and garbage bags to be brought back to the island. Drove back to the camp and prepared all the stuff we can bring to the island, medicine, clothes, school bags, supplies, slippers, underwear, toiletries. At 12noon all set to sail back to the island but weather wasn't cooperating, windy sea and giant waves prevented us to sail, got a call from the military counterpart that it wasn't safe to travel. They have to Abort the mission and wait for the next day. While at the camp, we had a chance to talked to military personnel, soldiers and civilian volunteers, rebel surrenderees about their lives in a war zone and turned all our wonders into a huge respect and admirations! Salute, for their dedication and the love for our country and our countrymen, the civilians and the children. How they worked hard to change the ideology of the peopel in the island, fighting ignorance and poverty through "Education, without holding a Gun" that knowledge is the only weapon to save them not guns and armalites.
As I was talking to Captain Winston, we truly understand the battle they've been tasked to fight for, not just security and peace problems, smuggling, illegal logging, drugs, unity, economic and livelihoods, psychological, religious and cultural differences , education, lack of teachers, classrooms, chairs, chalk, black boards, roofings, toilets, health programs and lack of medical doctors & nurses, social neglect and political chaos. All the social problems we can think of. All of this, are part of their jobs and their missions. I have no words to say, my heart was beating so fast and feeling the pain and the frustration in their hearts. All the sacrifices away from their families without knowing when to see them or will they'll be able to see them again, if they're lucky enough to survive and go out the war zone alive.
Went to bed with a very heavy heart, in a vacant nipa hut prepared to us 3, soldiers has to lend us their personal blankets and gave us mosquito repellent "katol" to survive the night. And make sure we have enough water in a small toilet. We had a good sleep. And woke up at 4am and have the best lamitan barako coffee prepared for us.
Quick breakfast, omelet and daing na pusit and rice, have to board the speed boat again while the sea was calm and by 6am we reached the island again. Children were waiting for us, sat at the rock facing the blue sea, started reading story book to about 50 kids in front of me until i was already surrounded by more than 200 children by 7am Took the chance to share my stories and how "education and my love for the country and the children changed me and how i started with my mission and my advocacy."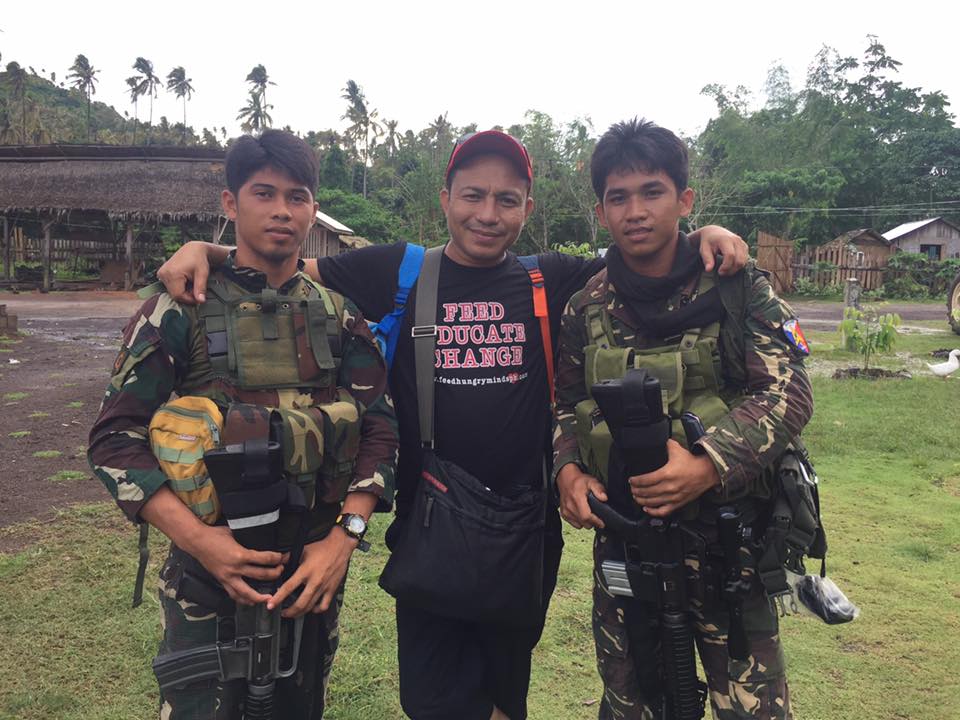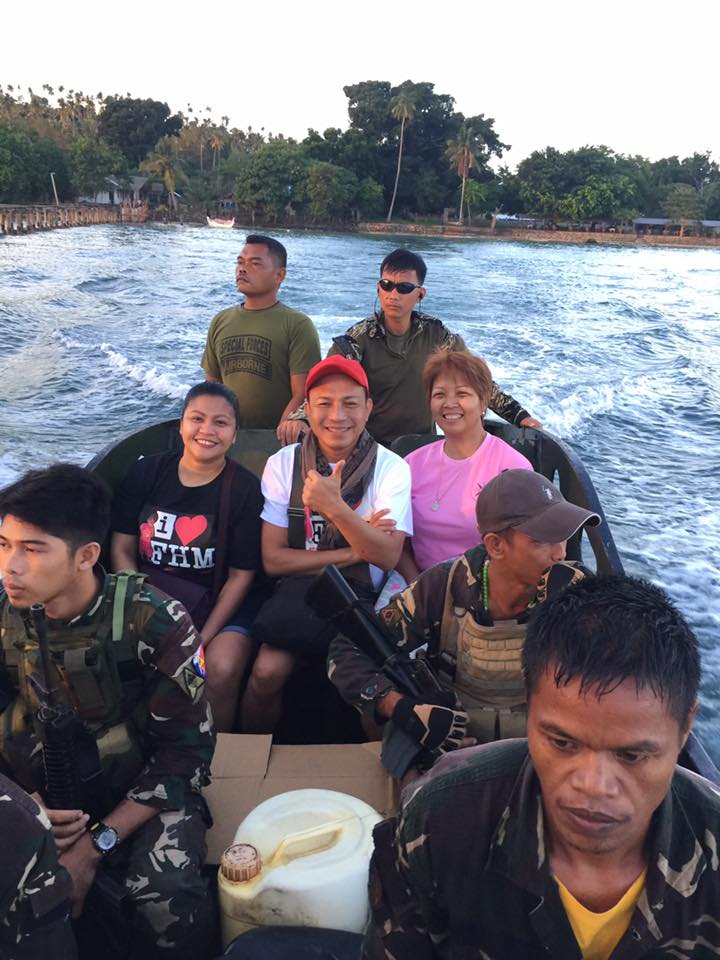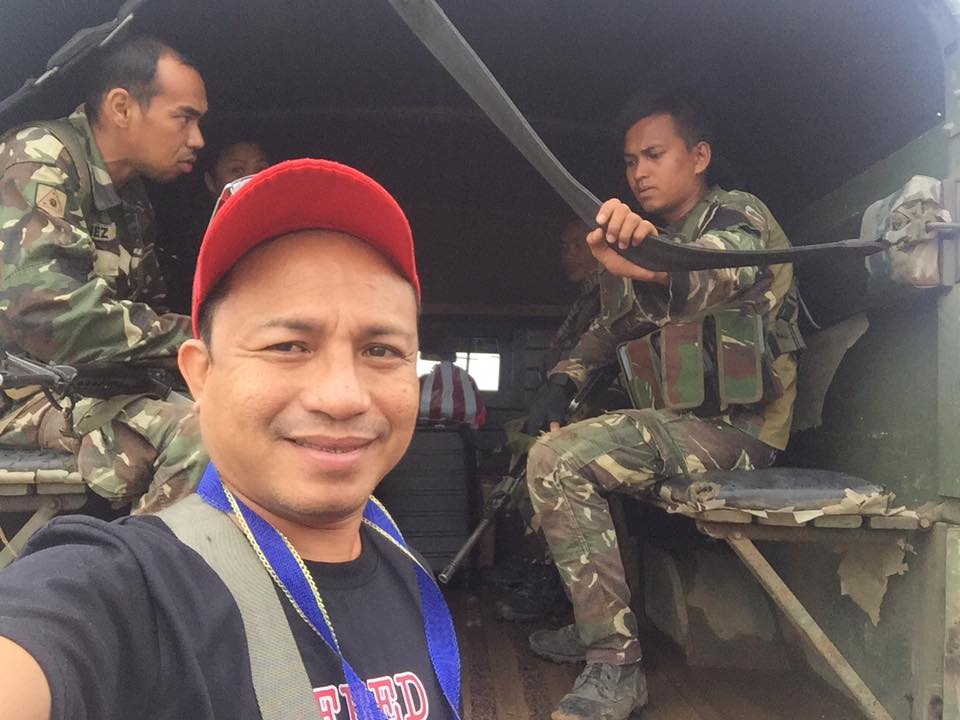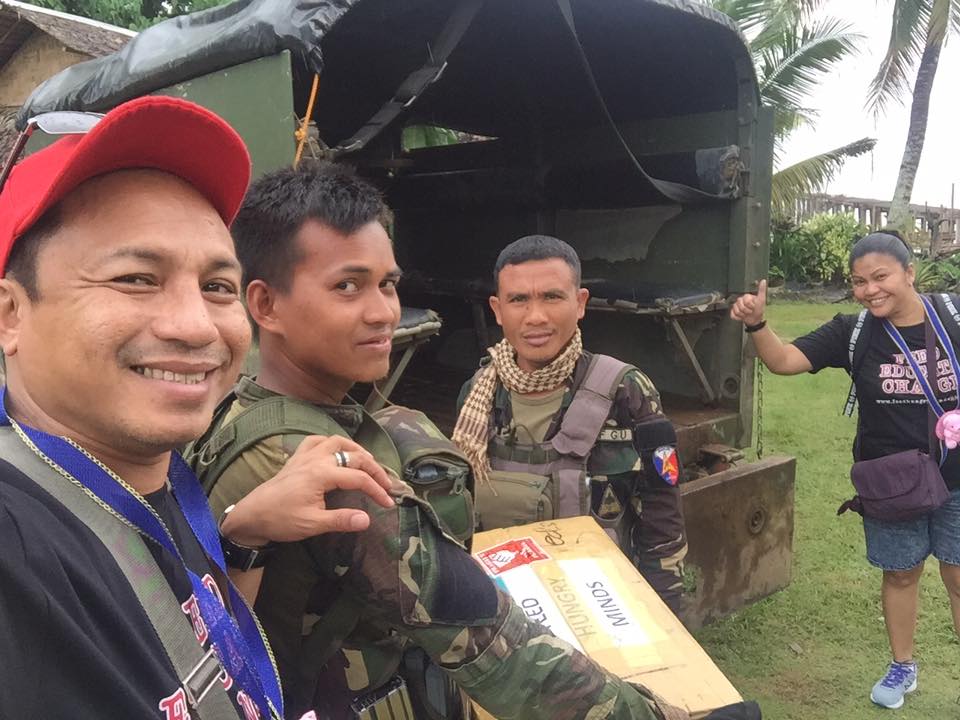 I made use of my being a comedian and a storyteller, until I was able to explain the effect of waste and plastic to the island, to the ocean and to the marine life, to their health and effects to their lives. So i challenged the kids to find a partner and gave them one large garbage bag each and who ever comes back to me with the most filled bag with plastic waste gets a gift, school bag, school supplies, milk, apples, cupcakes, medicines and vitamins, toiletries and underwears slipper and a new set of clothes donated to me by Jerry Yap Cora Rodrigo OTTO SHOES Ramir R Encabo Jane Smith, Mari Mel Sofia's Choice Toto Tan Loida de Castro Doll Castillo Scott McClain Chriss Garcia Edmelda Paliza Garcia Sandy Atienza Cecille Aloc Take The Stage Floraine Yu Liwanag and many more. Gave the kids 15 minutes for the task and in less than 15 minutes we were able to collect a mountain of plastic waste from the ocean. We also took the chance to speak to the parents the importance of sanitation in a very careful way that we wont offend their religious practices and their culture. While my friend dr. Lynne is busy attending to all patients, parents with health problems, cheche is manning the soldiers and managed to handle the children and their parents. While Me and the soldiers were busy rewarding the kids with gifts upon surrendering all the collected garbage from the shoreline. To our disbelief it was a truck load of plastic in 15 mins.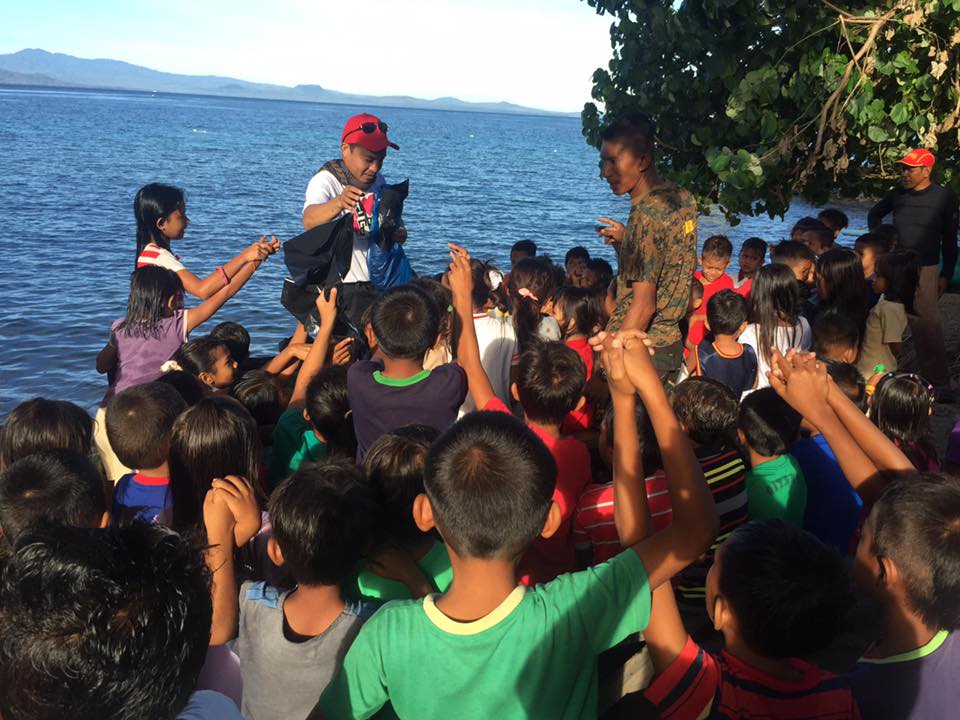 Gifted all the kids with stuff and left the island with a relief that somehow we were able to inculcate the message in their hearts and promised them that we will return on Christmas day to celebrate with them, if they promise us to keep the island clean and take care of the richness of the sea for the future of the children!
Giving everyone a hand shake, as we bid goodbye to all the people of Akbar, we uttered a short prayer for peace in the island and the whole country and its men! Forver we will remember that Basilan is a beautiful place in the Philippines with beautiful people with only has one wish… PEACE!
For us, the devastating effect of war led to innocent lives suffering…. a lot of lessons can be learned but let us be part of the solution rather than the problem…hate divides while Love unites and kindness overcomes….❤️❤️❤️
See pictures below… Click for full view.