Feed Hungry Minds Library Inc. Mission 2:
Aetas of Mount Pinatubo, Capas Tarlac
Straight from the show last night at Beats Avenue at 5am we drove to our first destination to surprise 350 elderly affected by the flood and the recent typhoon in Brgy dulong malabon, Pulilan Bulacan. Together with very hardworking fellow life changers, brother Andre Jay Merlinda, Andre Bro Blair, Maria Nicolas Andrade, Myla Villanueva, Gras Ya, Maricel Anderson, Maribel Hernandez and Vilma Katrins, Mabait Jiovanni Cultura, Anna Turla, Julie Bernadette Eligado.
Then proceed to our second destination where 150 Aeta Families and children were waiting for us in the mountains, assisted by our AFP soldiers. Its was hot and tiring but we were able to make them so happy. With a pack of rice and sardines, from Manay Jane Smith, apples, candies, clothes from Mitch De G Armie Tecson, Kuya Jun of Emirates employees c/0 Merna Brazil, Star Almayda Deocares noodles, biscuits, slippers from OTTO SHOES and kuya Jerry Yap.
While my volunteers are busy preparing, i started storytelling under the tree and the children were very much responsive and jolly! After the distribution of food packs, i asked the children to Pick up all Plastic they will find around the venue and we exchange it with a gift, Finished the mission at 12 noon and went down and time to feed ourselves with lauriat meal at chowking capas. And head headed home to manila with a happy heart!!! Thank you LORD! #happytoserveGOD #missionbeyondmusic #feededucatechange #feedhungryminds
Aetas cleaning the place in exchange for P5 baon!
Feed Hungry Minds Library Inc. and Arpie & the Multivitamins small contribution to Mother Earth after our mission, we always encouraged the children to help us clean the place and we buy all collected plastic for P5 baon for school!!! Effective sya! Watch this video!!!
I sometimes am the most misunderstood person , but this is really me, i find joy and fulfillment in what we do, what is a small sacrifice, serving the LORD and bring back the glory to the source of my life, my energy, my talent, my strength! I am happy with what we do, changing lives without if's and doubts! I am grateful and i will continue to serve!!!! i will not stop thanking GOD for this mission and will forever be grateful to people behind Feed Hungry Minds Library Inc., Arpie & the Multivitamins, Jim's Bar and Restaurant, Beats Avenue, and Johnny B Good PH.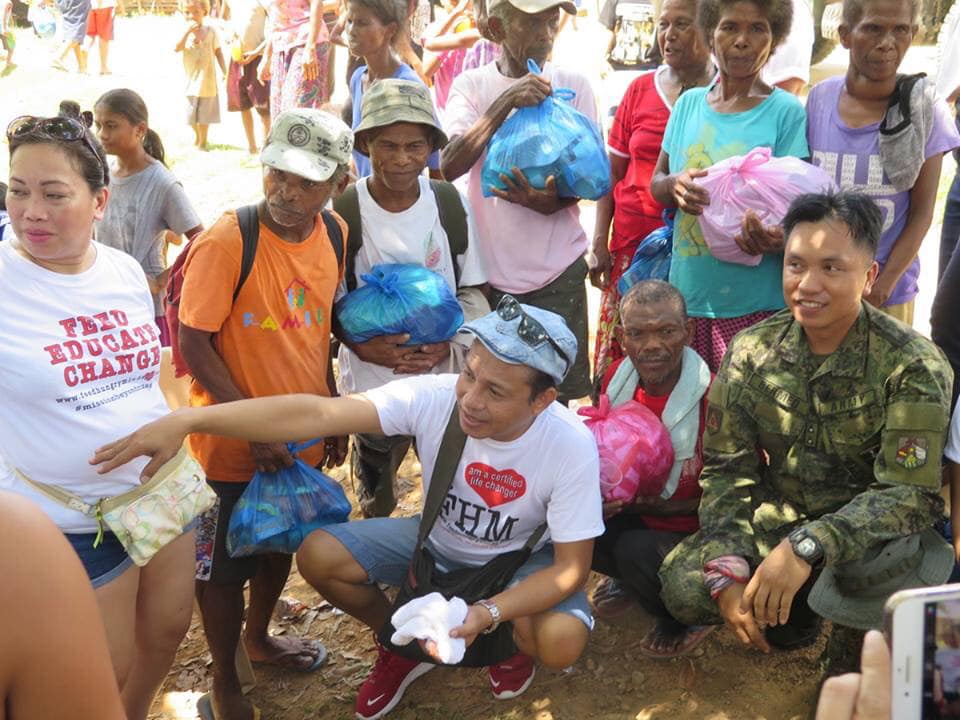 Thank you!!!
Jane Smith, Jerry Yap OTTO SHOES Lola Len Maricel Anderson Mari Mel Mari-Nel Sarmiento Garcia Star Almayda Deocares @take the. Stage, Hasmin Buan Pengal Samuel Garcia Armie Tecson Maribel Hernandez Merlinda Andre Andre Jay Edmelda Paliza Garcia Angel Agura Baito Chrissian Faller JunPinky Chinjen Julius Cawaling Jiovanni Cultura Kevin McCarthy Nardia C. Cultura Maria Nicolas Andrade Mitch De G Ogie Diaz Roselyn Ortiz Abesamis Sharon Perez Arpie Patriarca Sabrina Olaguera Lontok Teresita Leus McCarthy Uni Pacay Buckley Shazy Sjer WilkieEmm Agura Baito Jade Doll Ong Rose Otero Jitsukawa Brat Nicoll Marianne Cuneta Daisy Tapel-Bruno Doll Castillo Lucy Tangonan Ferrer Kampoy Canimo.
No amount of money can replace the joy after sharing authentic and genuine
love!!! God bless you all!! ❤️❤️❤️ #missionbeyondmusic
#feededucatechange
#feedhungryminds